Overview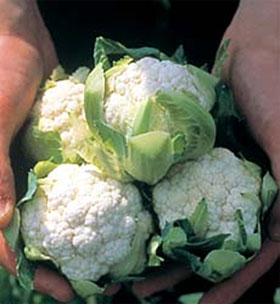 Cauliflower has a long history of human consumption. It is believed to have originated in Cyprus as far back as 400B.C., with sources also in Egypt and Turkey. Today cauliflower is a major food source world wide. In China and India, much of the crop is dehydrated and then re-hydrated later for consumption. Agronomic production in these regions dwarfs that of both North America and Europe combined. China, for example, produces approximately 20 times what is produced in the USA, while India produces 10 times.
In North America, cauliflower has been grown by farmers and settlers since at least 1600. In 1900 much of the North American production was centered in the higher altitudes of the Catskill Mountains in northern New York State. To this day still, there is an annual festival commemorating its once major economic importance to the area. Today, most North American production is provided by the coastal and interior regions of California and Arizona. In Canada, Ontario and Quebec and the Maritimes all produce adequate quantities for in-season local consumption.
Cauliflower on Our Farm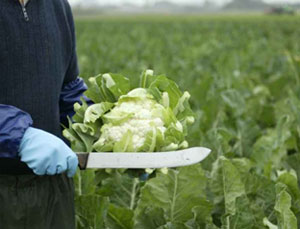 Cauliflower production has been the single largest activity and focus of our farm since 1988. Annually we produce about 125 acres of crop and as such we are one of the largest grower-shippers in Canada. Our efforts provide the bulk of the wholesale/retail product consumed in Atlantic Canada. In the past we have shipped product as far south as Florida and Louisiana and quite commonly as far west as Toronto. We were perhaps the first grower in North America to offer an orange-colored variety as long ago as 1998.
Market Presentation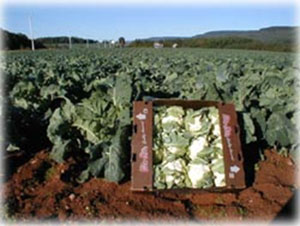 Our cauliflower is trimmed, harvested and packed into cartons in the field with the aid of a mobile carousel harvest platform. Product is prepared according to customer preference, with specific sizing and trim requirements. Formats include Jumbo Jacket 12's, Jacket 12's, Cello 9's, Bikini 9's and Bikini 12's. Beginning in 2008, we will also provide prepared cauliflower florets in 2X3lb bags to wholesale and foodservice customers.